Card Aroma Diffuser
kaori card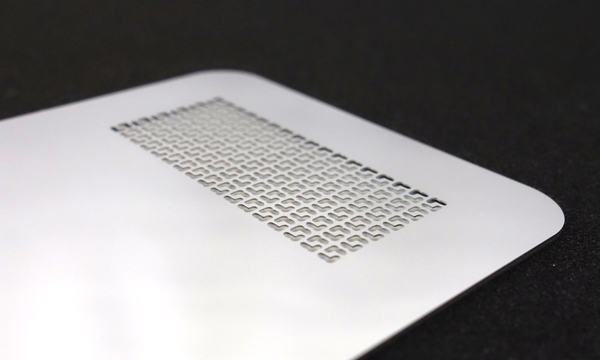 Traditional Japanese "scent bag" revived as 1mm ultra-slim, elegant metal fragrance card.
Place it among your business cards to impart a subtle but distinct aroma.
Newly designed porous metal shell stores, seals and diffuses scent components
World's first mechanical fragrance control system requiring no batteries. *Patent pending
State-of-the-art metalworking process involves more than 20 steps such as fine cutting,
machining and polishing, to realize a multi-layer hollow structure across a flat plane.
Each piece is hand finished by one of the nation's top craftsmen.
Enjoy a fragrant aroma from your wallet, purse, smartphone case, or sun visor of your car.
Made in Japan by RE · LEAF Inc.
features
Freedom
Totally spontaneous, free-form operation
Accepts drip or spray aroma oils and scent components
Controllable
Cartridge slide assembly makes it possible to control
storage, diffusion and adjustment of fragrances emission
Ecological
Requires no batteries
Washable metal cartridge (semi-eternal)
Sensual for body temperature
Heat conductive metal shell uses body heat to disperse scent
design
Squirt your favorite aroma oil or perfume onto cartridge, and slide it into card case.
Sealed shell and slide construction allow for longer enjoyment (patent pending).
Newly developed porous metal surface retains fragrant components in the cartridge.
Squirting aromatics on a large surface makes a funnel and syringe unnecessary.
The cartridge and case can be washed with water or cleaned ultrasonically, allowing
you to change fragrances in accordance with the time, place and occasion.
The corrosion resistance, strength and precision unique to metal facilitate
introduction, penetration, retention, confinement and dispersion of fragrances from
a multi-layer, ultra-slim card design structure only 1 mm thick.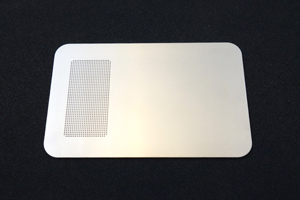 Card Case Shell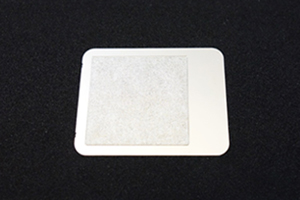 Cartridge (Porous metal surface)
Aroma oils and perfume can be squirted on using a teardrop or spray container.
Newly developed porous metal surface facilitates better penetration and retention of
fragrances. Adoption over a wide area allows you to enjoy fragrances longer.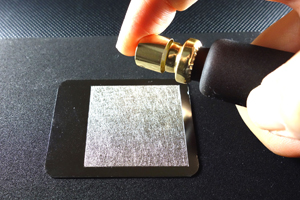 * Aroma oils and perfume not included as accessories to this product. Please purchase them separately.
how to use
· Cartridge Removal: Remove sliding card format cartridge to squirt on fragrance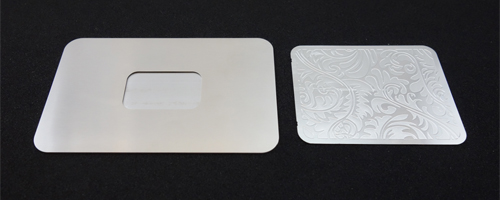 · Cartridge Operation: Insert cartridge into open slit on side of case; use the operation window on the back of the case to grip and slide the cartridge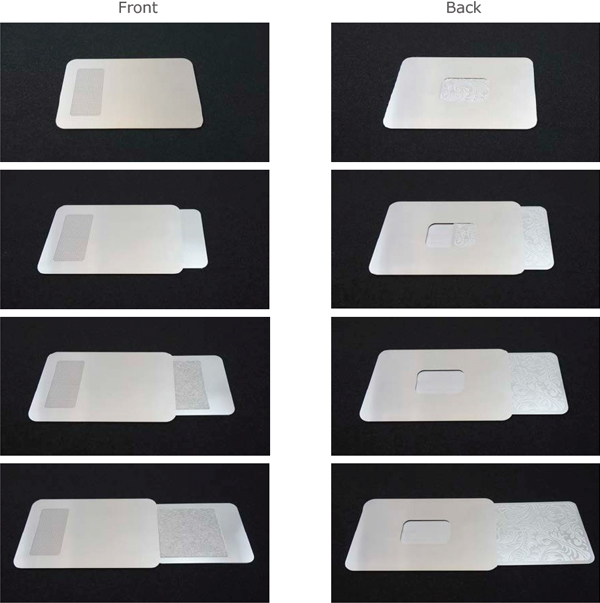 · Adding Fragrances: Squirt or spray 2-3 drops of perfume, etc. onto the porous metal surface from a teardrop or spray container. A wide area porous surface has been adopted to facilitate longer enjoyment of fragrances.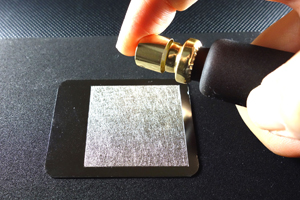 · Cartridge Operation: The reverse side of the cartridge has been elegantly
etched for better grip when sliding the cartridge in and out of the case.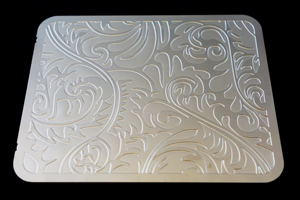 · Slide Adjustment: Pores on the porous metal surface are aligned with the front of the card case. Rate of diffusion can be controlled by sliding the cartridge.
· Body Heat Transfer: Touching the thermally conductive metal card case causes body heat to transfer to the cartridge, increasing the rate of fragrance diffusion.
· Changing Fragrances: The card case and cartridge can be washed, dried and
refilled after the scent becomes weak or when a change of fragrances is desired.
· Multi-Functional: Enjoy your favorite fragrances from your pocket, wallet, purse, desk or sun visor without getting perfume or oil on your clothes and body.
structure
Slide Adjustment
The pores on the porous surface of the cartridge align with the front face of the card case. Adjust the rate of diffusion by sliding the cartridge from sealed to disperse.
Release ON
(Cross sectional view 1)
Slide the porous metal surface on the cartridge (the red part in the figure below) to the back of the card case. Fragrance components filled into the porous metal surface diffuse through the pore hole openings in the front of the case.

Release OFF
(Cross sectional view 2)
Sliding the cartridge toward the slit opening causes the porous metal surface and the cavity space to be hermetically sealed by the frame edge on the cartridge and the inner wall of the case.

Enlarged View of Case Interior
(Cross sectional view 3)
A slight gap space between the porous metal surface and the inner wall of the card case has been designed to facilitate retention and dispersal of the scent.

* Patent Pending
customize
Ventilation pore design can be customized with laser engraving of your brand name or message.
Each set of Kaori Cards is custom manufactured based on an original design.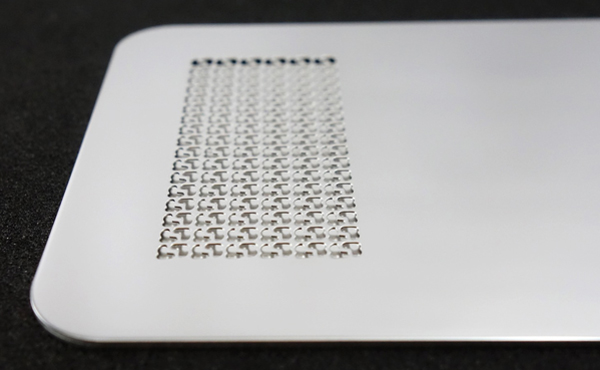 Patterned design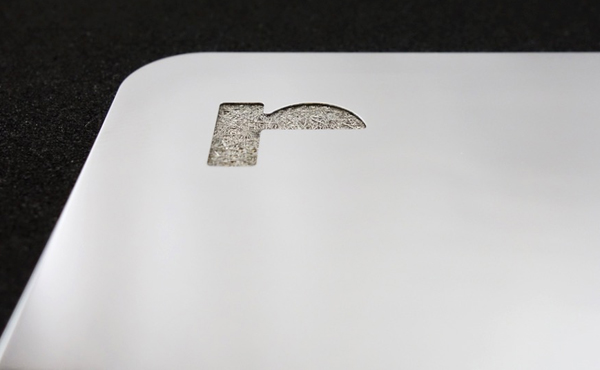 logo design
customize
Customize cards with laser engraved lettering bearing your name, brand name, message, etc.
Each set of Kaori Cards is manufactured to order based on an original design
Laser Engraved Printing (Name & Corporate logo engraving service)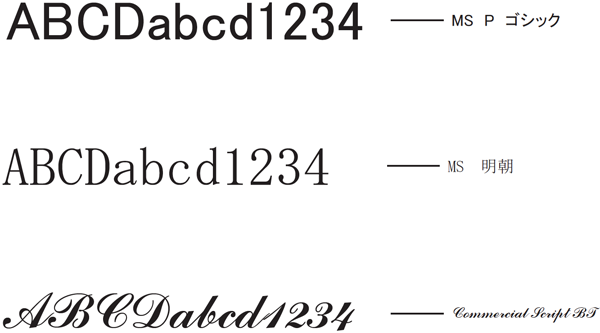 * Name engraving is an additional option available at additional cost.
Estimate available based on lot size, font size, variety, placement, etc.
lineup
· Standard Model: Hairline front surface processing
· Exquisite hairline to make fingerprints less visible
· Suggested Retail Price: 48,000 yen (not including consumption tax)
· Choose from the 2 card designs below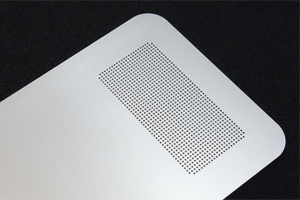 Minimal dot design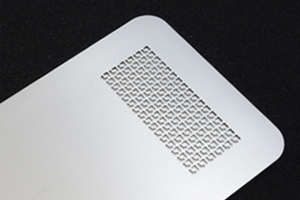 Luxury r logo design
· Gold / Black Model: Special color (Ultra hard coating)
· Exquisite hairline makes fingerprints less visible
· Employs special hard coating technology used for metal cutting blades
· 1 µm thick hard compound film achieves Vickers hardness HV 2000
→ Achieves greater than 10 times the hardness of uncoated metal
*Not made of pure gold or gold alloy
· Two card designs: [Minimal dot] and [Luxury r logo]
· Suggested retail price: 80,000 yen (excluding tax)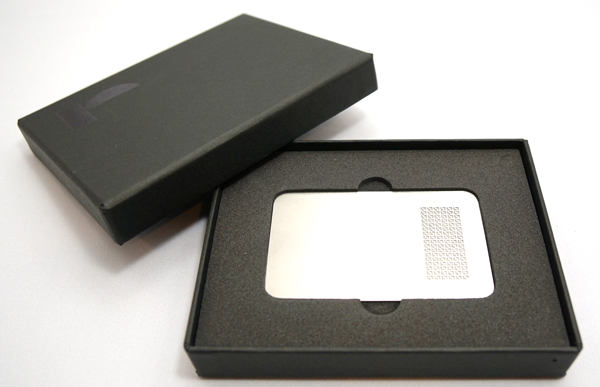 Front: Standard Hairline x Luxury r logo design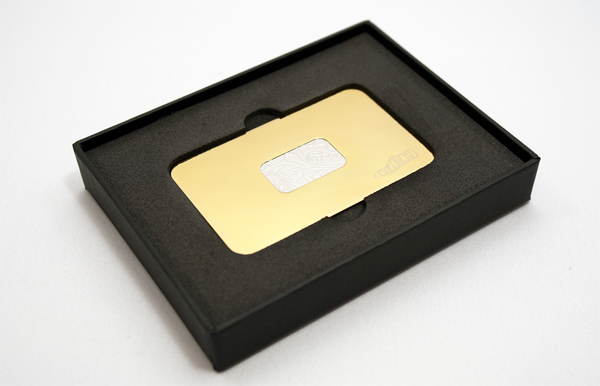 Back: Gold Special Color (Ultra Hard Coating and Laser Engraving)
Sensual for body temperature
High thermal conductivity unique to metal transfers body heat to disperse scent