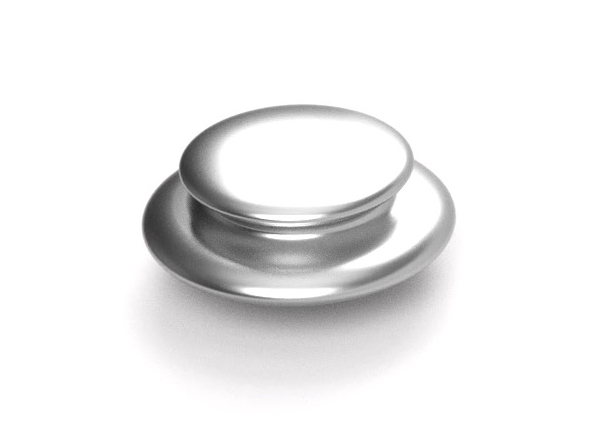 The world's first invention
that allows you to dine on "aroma."

Awakening of our primitive instincts,
the memories and sensations of when
humans held tools for the first time.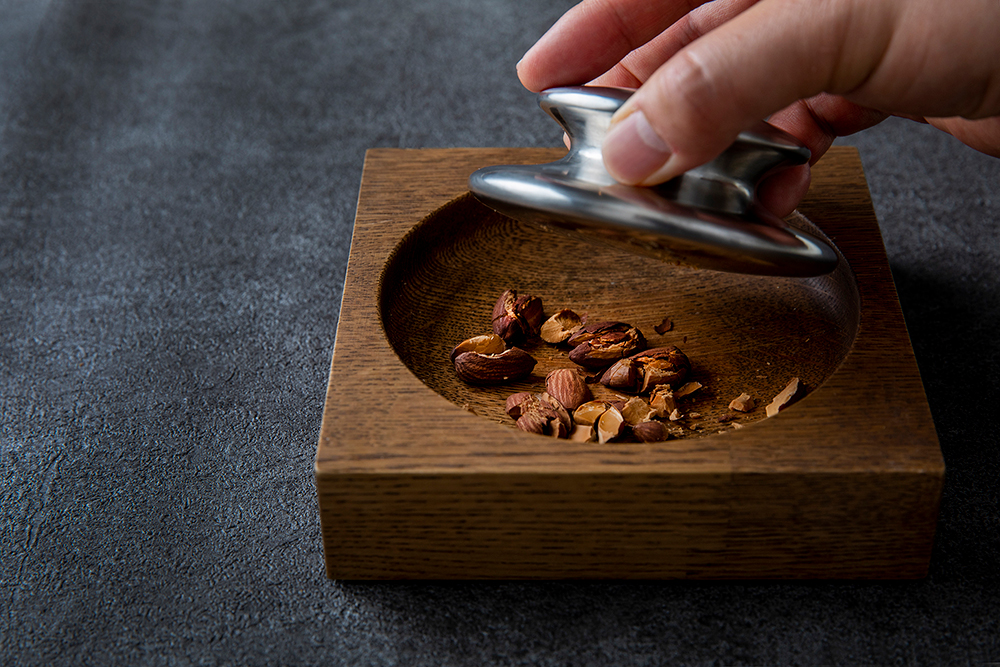 Grip a hammer and crush some nuts.
Simply by doing that, experience
a new aroma and mouthfeel.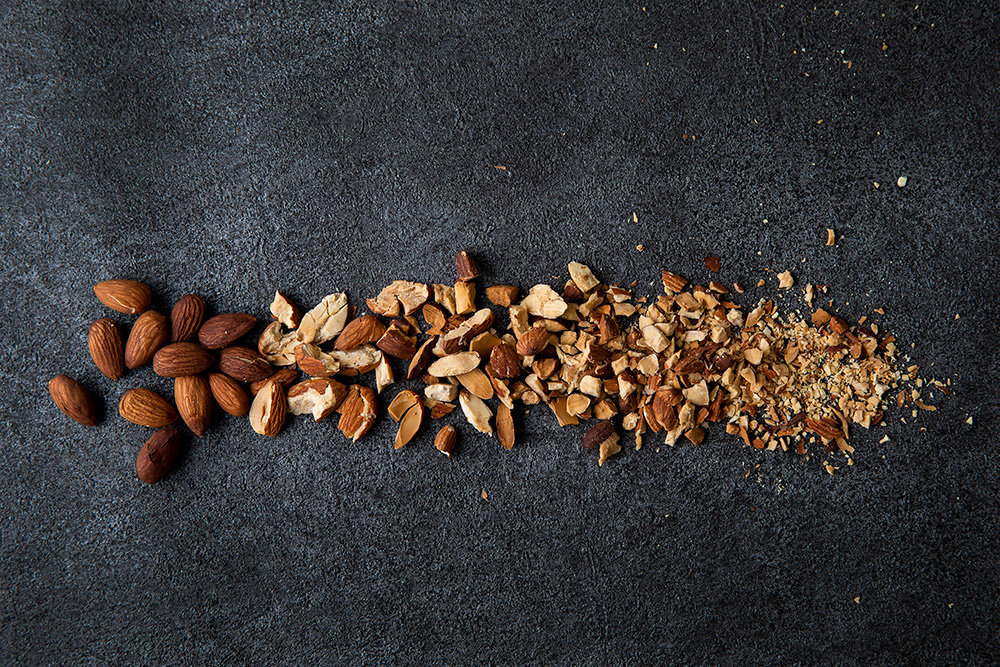 When you crush ingredients,
a rich aroma blooms.
With the perfect weight of hammer and wooden mortar ("usu" in Japanese),
crush nuts and spices by controlling the tools precisely.
Unlike crushing with knives or gears, the food naturally unravels along the fibers,
revealing the mellow aroma and texture that was originally hidden.
Experience the freshly-roasted, freshly-crushed aroma and mouthfeel that could not be attained by using existing tools,
such as pepper mills that allow ingredients to absorb moisture due to long-term storage,
and knives and mortars that allow round ingredients to escape.
Feel the freshness and eye-opening flavor in the moment
that the nuts and spices that have been crushed in USU bloom in your mouth.
Scenes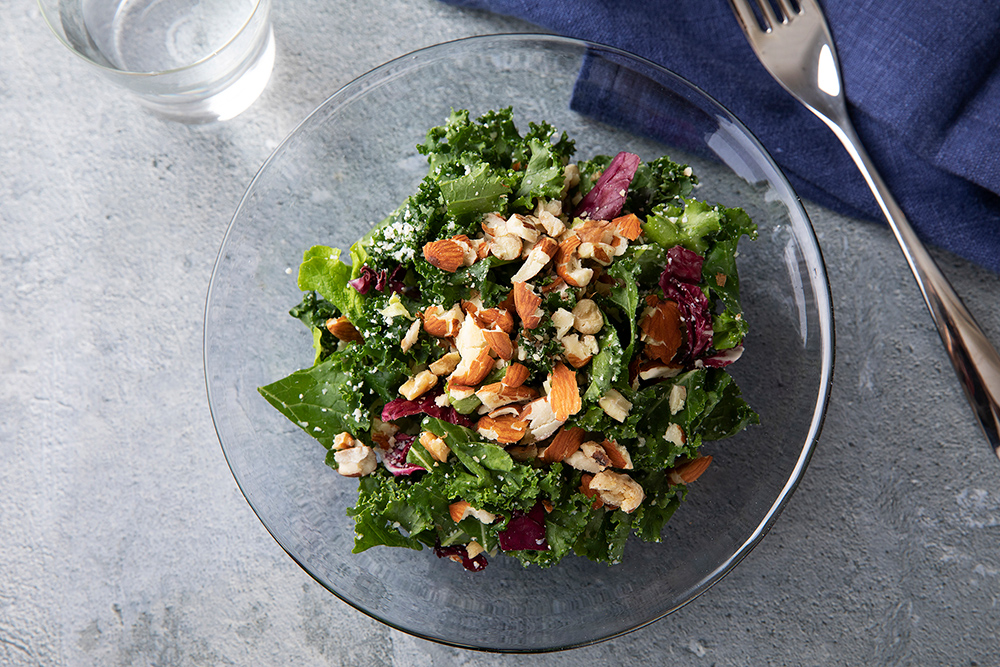 Add almonds and walnuts
to your usual salads for aroma
and glamorous mouthfeel.
Not only does this add an accent of food texture, but it also increases nutritional value.
If you roast the nuts in the oven, you will also get a savory, appetizing aroma.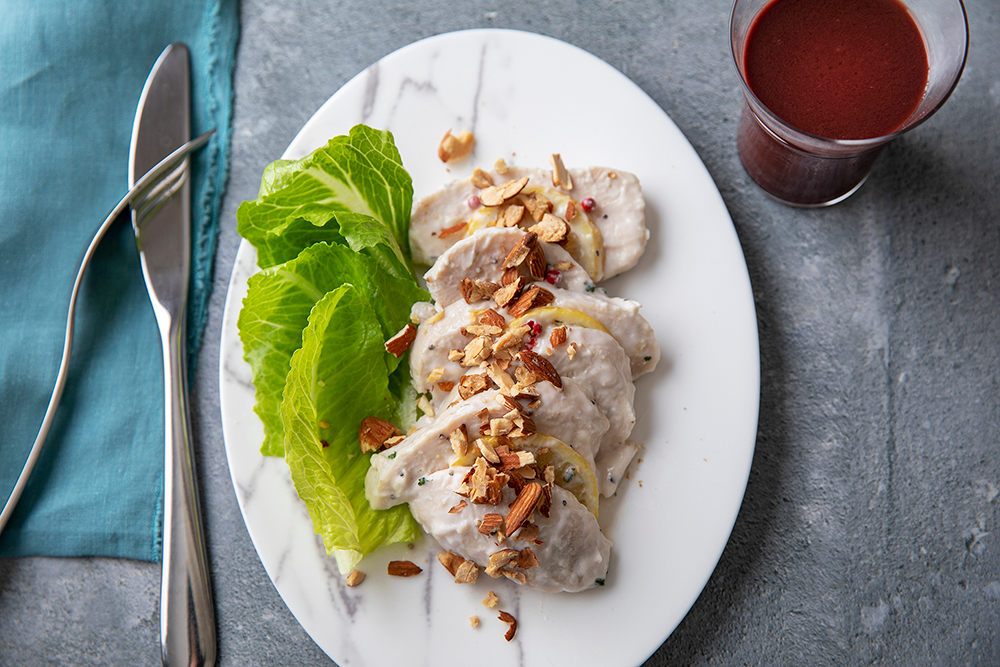 Nuts are rich in nutrition and
a strong ally of a low-carb diet.
Nuts are a nutritious, low-carb food, but eating them as they are is not the only option.
If you crush them using USU and sprinkle them on dishes, you can instantly add some sparkle to the menu.
Add aroma and flavor to bland dishes.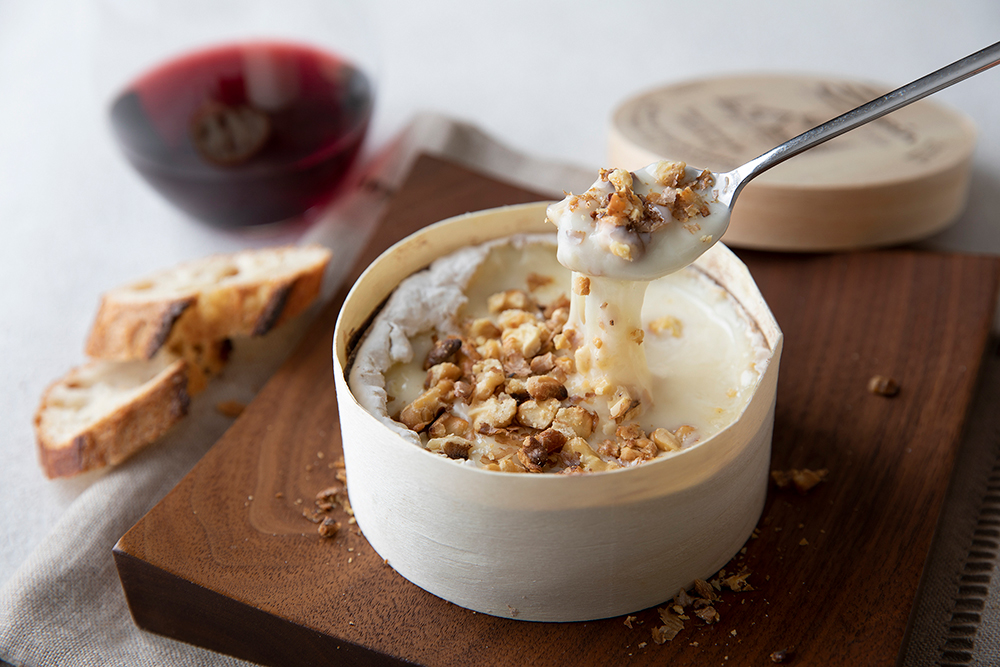 Promote ordinary cheese to meal status.
Having red wine with cheese …
This standard combination can have a richer flavor by adding nuts crushed in USU.
Each plays off the other to create a rich flavor in your mouth.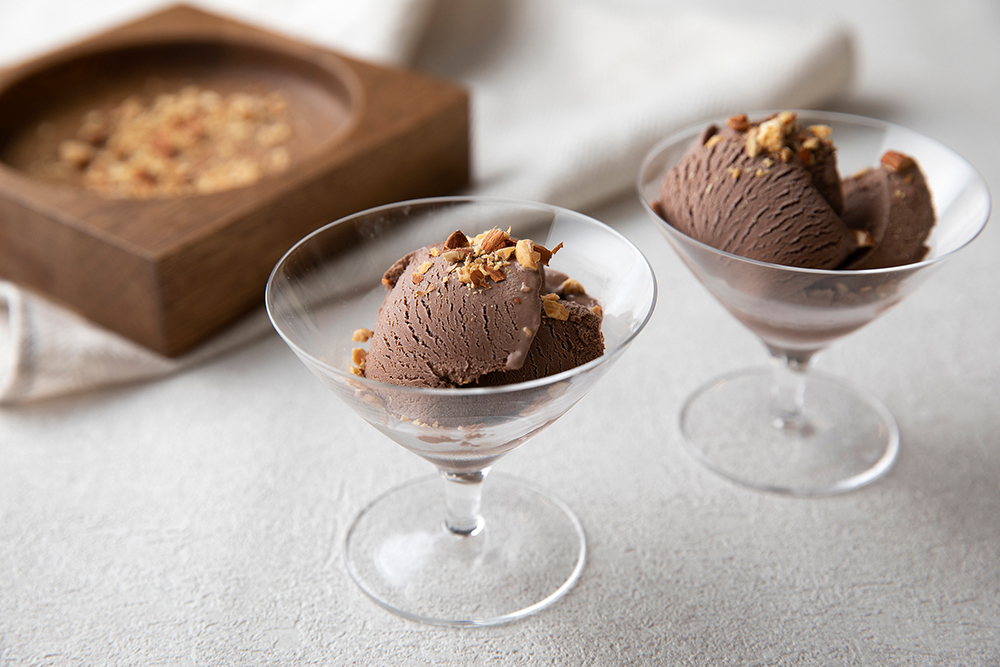 The contrast of temperature
and texture is simple but
results in the best flavor.
Crush warm, roasted almonds to the size of your choice and sprinkle on ice cream!
The combination of chilled ice cream and warm, fragrant nuts is a flavor acclaimed by everyone from children to adults.
Our recommendation is to add a few drops of liquor to this.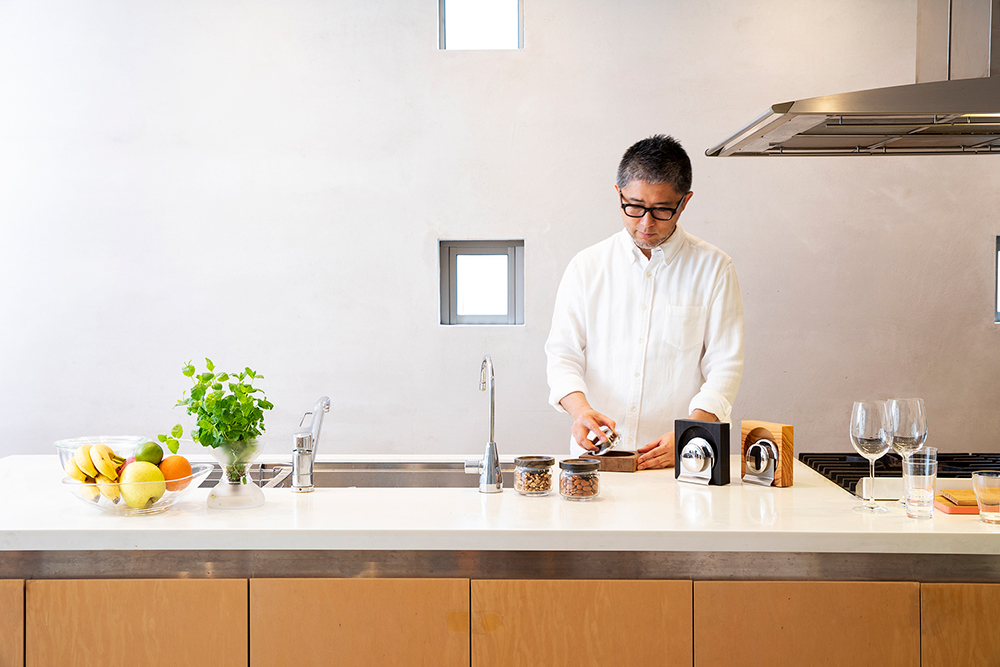 USU naturally blends
into daily life.
From breakfast to dinner, snack time to wine time.
Whether you pair it with sweet or salty treats,
the flavor can expand as far as your imagination.
Make your table healthy and aromatic by adopting nuts in your every-day life.
Definitely in the spotlight
at gatherings!
At tables for two, and at large gatherings, too.
This primitive cooking tool without any electronic sound that didn't exist anywhere before will be a hot topic at wine parties.
Many chefs and culinary experts that enjoy nuts and spices fondly use this tool.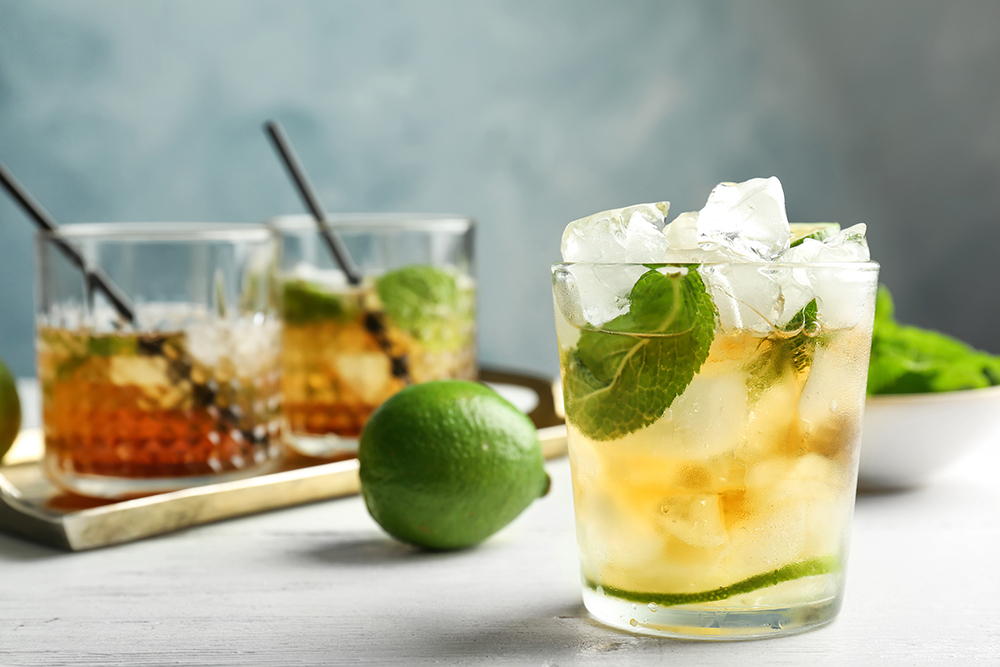 It can also bring aromatic harmony to cocktails.
You can make a variety of cocktails, from classics to original creations,
by adding the refreshing aroma of mint, fragrant roasted almonds,
a spicy pinch of sansho pepper, and for the more advanced - lightly-roasted, spicy black pepper.
Design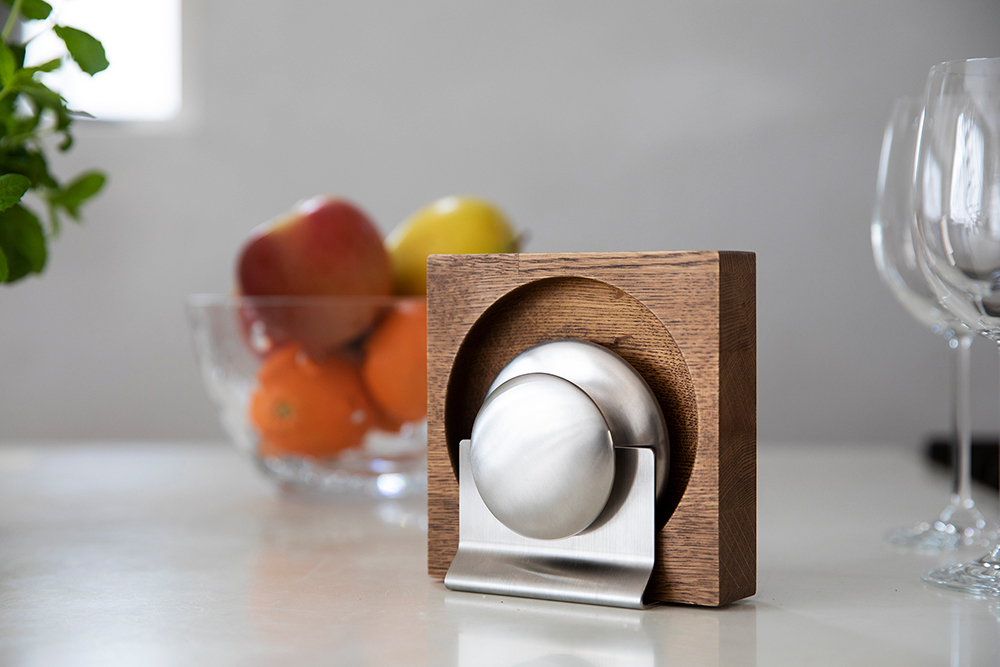 Because of its smart appearance, it can be left sitting out in the kitchen alone.
Its stylish design is one of the remarkable features of USU.
You want to leave it sitting out in the kitchen so that you can use it every day.
It can be stored vertically and compactly,
and the hammer can be stored securely in a mounted stand.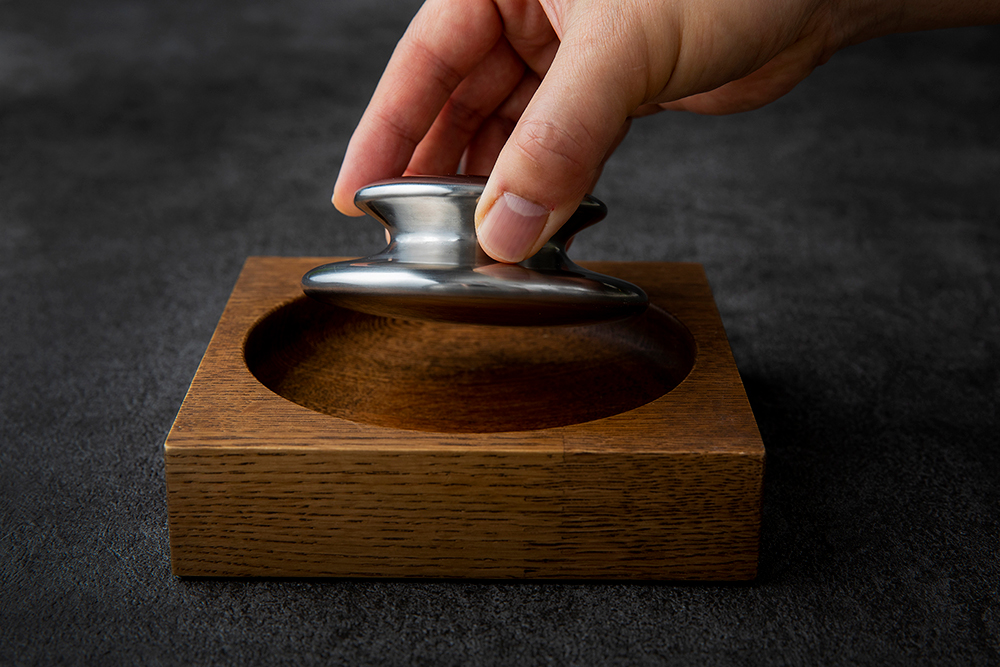 It is designed to be suitable for any shape of ingredient.
The secret which makes it possible to crush anything in any shape,
such as almonds or whole peppers that slip when using a knife,
is that the USU hammer and wooden mortar can move in the same circle. (Patent pending.)
The circular arcs are the same size, so they don't let anything captured in the gaps escape.
USU hammer can also be used vertically.
USU hammer can also be used in a vertical orientation.
Try crushing ingredients, adjusting the size of the pieces as you like.
After use, you only need to wipe the wooden part with a dry cloth.
The longer you continue to use it, the more flavor it imparts by absorbing the oil of the nuts.
Whenever you feel the need, you can wash the hammer using a soft sponge and a mild detergent.
Lineup
Aroma Grinder for
Nuts & Spice & Herb
USU®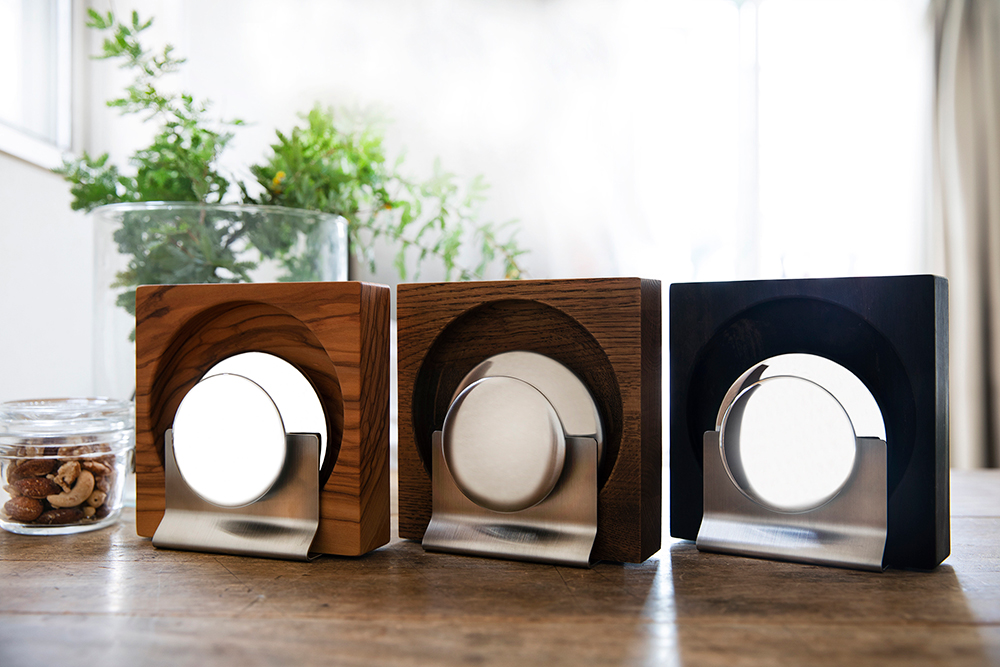 Three unique kinds of wood that decorate your kitchen.
The CD-size, square USU can be stored compactly.
It's the perfect gift for someone who cherishes "food."
Besides the smart-looking standard model (made of oak, center),
there are two luxury models made of precious wood: the olive,
with its beautiful and unique curves of woodgrain (left),
and the luxury model made of ebony,
which has been used for luxurious furniture and musical instruments from ancient times,
due to its black tone and hardness.
(The wooden mortar base is Forest Stewardship Council (FSC) certified.)
The combinations with hammers are as follows:
Oak (standard model) × Stainless Steel
Olive (luxury model) × Mirror Finish Stainless Steel
Ebony (luxury model) × Mirror Finish Stainless Steel
Ultimate Craftmanship
As if making a sculpture from a high-grade stainless steel block,
each is produced through an ultra-high-precision, integrated machining process.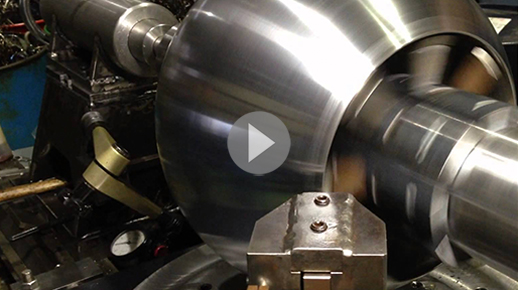 USU Hammer: Maximum Diameter Approximately 9.5 cm/Weight Approximately 1.23 kg
We utilize an integrated machining process on a single block of steel that takes time
and effort so that it can constantly capture ingredients without any gaps at the surface.
It is a high-precision spherical shape, and at the end of the process, skilled craftsmen finish each one individually by hand.
The wooden pedestal is also carved by woodworking craftsmen one at a time,
and in the final process, it is finished by hand to fit the hammer perfectly.
Specification

Possible to store compactly in the vertical stand.
A CD-size object with a stylish, minimalistic design.
Hammers and vertical mounted stands are made of sanitary stainless steel.

USU Hammer: Maximum Diameter Approximately 9.5 cm/ Weight Approximately 1.23 kg
Wooden Base: Made of Oak/
Outer Dimensions Width Approximately 142mm × Depth Approximately 142 mm × Height Approximately 35 mm/
Weight approx. 350g
∗ Patent Pending/ Registered Design (Design Registration No.1602171) /
"USU" is a registered trademark of RE・LEAF Corporation (Trademark Registration No. 60588843).
∗ All posted images are illustrations.
In actual products, detailed specifications such as color tone, etc. may differ.
Please note that specifications, appearance, finishing, etc.
may be changed prior notice for product improvement.
Accessories & Options
· Replacement Wooden Mortar Base (Made of Oak)
· Vertical USU Stand (Made of Stainless Steel)
Luxury Art Model Lineup
· USU of Lignum Vitae
  - USU Mortar Base of Precious Solid Wood "Lignum Vitae."
  - USU Hammer Part with Mirror Finish
· USU of Olive
  - USU Mortar Base of Precious Solid Wood "Olive"
  - USU Hammer Part with Mirror Finish
· USU of Ebony
  - USU Mortar Base of Precious Solid Wood "Ebony"
  - USU Hammer Part with Mirror Finish